POSTPONED UNTIL FURTHER NOTICE!!!
Avoca Hockey Club's Hockey for Mums & Chums starting 23rd April
Haven't played in a while or a Hockey Mum? Come along on Thursday 23rd April for the first of four sessions (also on 30th April, 7th May and 14th May) at 8.30 pm at Newpark School, Newtown Park Avenue, Blackrock and try the game again (or for the first time).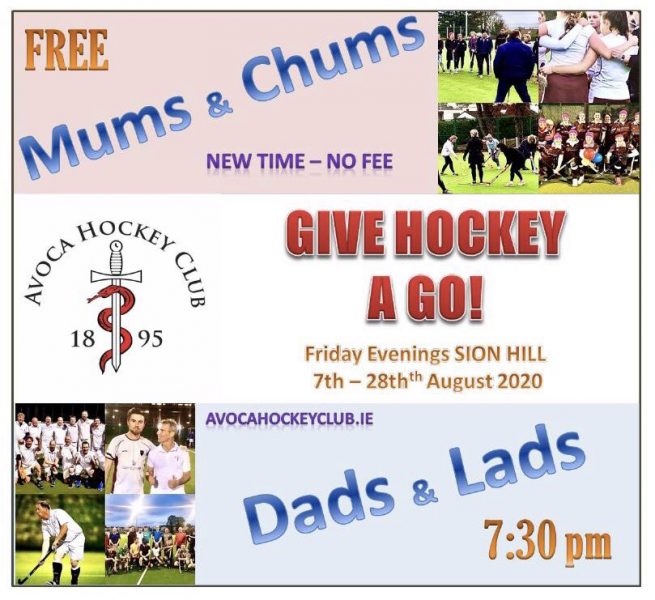 A number of Hockey Clubs have introduced open Hockey sessions at the end of the season to allow an opportunity for people to try the game for the first time or pick up a stick again. Avoca's Men's section introduced it last year and formed a Men's 4ths as a result. Avoca Ladies section would now like to do the same. The Club plans to introduce a Ladies 6th next year and is looking to recruit players and these sessions are part of that process.
You can play Ladies Hockey from aged 15 upwards and we have several players over 50 playing Masters Hockey so age is no barrier. If you come along please wear a gum shield and shin pads and if you don't have a stick we will provide one along with coaching for those new to Hockey. Each session is €5 or €20 for all four. You can pay on the night or register for all 4 sessions here.
Places are limited so please register to avoid disappointment or email Grainne Millar at grainne@gminnovations.ie. Registration includes insurance and you do not need to be an Avoca Club Member or Mum of a member. All welcome
Thursday 23rd April 8.30 pm to 10.00 pm Newpark School and continuing at same time on 30th April, 7th May and 14th May.