Goalkeeping
Coaches
Primary School Goalkeeping
Videos
Welcome to the Avoca Hockey Club Goalkeeper Academy.
In Avoca Hockey Club we provide goalkeepers of all ages and abilities with Goalkeeper training sessions.
We work on all technical aspects of the goalkeeper during our allocated Goalkeeper training times.
While the goalkeeper does need to work on his own individual skills they also play a vital part of the team. Avoca Hockey Club we work with each individual goalkeeper to ensure that they feel part of the team.
Specific Goalkeeper Training Times are as follows: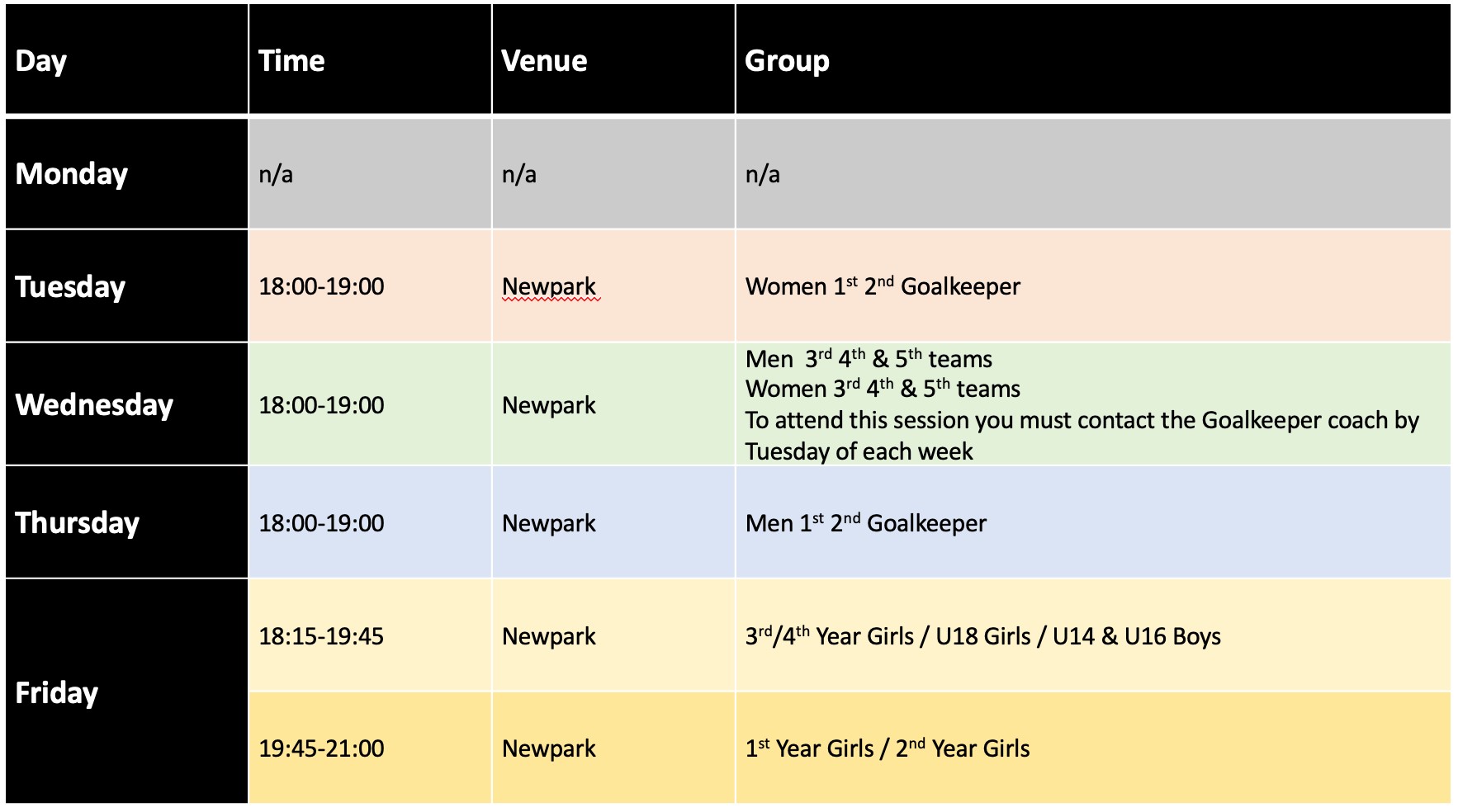 Head Goalkeeper Coach – Brian Cleary
Brian has been Head of our Goalkeeper Academy since 2016. Brian's interest in coaching goalkeepers began while he was playing. Frustrated at the lack of specific coaching to goalkeepers during training sessions, Brian devised a system which allowed goalkeepers develop the key skills required to be successful both as a goalkeeper and within a team. Since 2016, Brian has built successful Goalkeeper Academies in Avoca Hockey Club as well as Pembroke Wanderers and Three Rock Rovers Hockey Club.
Brian has also gained valuable experience coaching at Representative Youth level as a goalkeeper coach for:
Leinster Under 16 Boys
Leinster Under 18 Boys
Ireland Under 16 Boys
Ireland Under 18 Boys
Brian's experience has encouraged the goalkeeper coaching team at Avoca Hockey Club to develop Goalkeepers who are now playing interprovincially and internationally on a consistent basis. As well as coaching goalkeepers in Avoca, Brian also coaches in Loreto College Foxrock, Rathgar Hockey Club and Clontarf Hockey Club.
Conor Murphy
Conor Murphy is one of our coaches. He is playing as a goalkeeper for the Avoca Hockey Club Men's 1st team. Conor has been developing as a coach by coaching in our Goalkeeper Academy. He has been influential at bringing through young goalkeepers and encouraging them to have such passions for the position of goalkeeping. Conor started his goalkeeping in Avoca Hockey Club at Under 10s and has worked his way up the ranks, not only to 1st team level but has represented Leinster Under 16s, Leinster Under 18s and most recently represented Ireland at Under 18 Level.
Aidan Doyle
Aidan started playing hockey at Amsterdam Hockey Club, before playing in Sydney. In Ireland, he played for Three Rock Rovers Hockey Club and is now currently playing with Rathgar. He has been coaching youth goalkeepers for many years and as well as coaching in Avoca Hockey Club he also coaches goalkeepers at Loreto Stephens Green and Three Rovers Hockey Club. As well as coaching in our Friday night Goalkeeper Academy, Aidan is also our lead primary school goalkeeeper coach in Avoca Hockey Club.
Lisa Baldwin
Lisa is one of our goalkeeper coaches. Lisa started off playing club in Avoca HC. She went to UCDLHC, playing for the 2s squad alongside training with their EYHL team, and being the Club Captain for the 22/23 season.
This season she has returned to playing with Avoca and is involved with our 1st and 2nd team squads. She has developed as a coach over the past 6 years with Brian & the goalkeeper academy.
She has also gained experience by coaching in the Leinster development programmes, and giving help in the U16 & U18 Leinster girls goalkeeper sessions.
Dan Brown
Daniel comes us from England and was previously involved with Fortitude Hockey who ran a very successful camp for Avoca Hockey Club a couple of years ago.
On a coaching front he has a wealth of experience both at club level and performance level.
Club
West Herts HC 2014-2017 Junior Goalkeeper Coach
Hertford HC 2018-2021 Senior Goalkeeper Coach
Southgate HC 2018-2022 Goalkeeper coach
OMT HC 2021-2022 Senior Goalkeeper Coach
Old Loughtonians HC 2018-2019 Senior Goalkeeper Coach
St Albans HC 2020 – present Goalkeeper Coach & Coordinator, Ladies 1s Assistant Coach
Performance
Herts HA 2015-2022
Northwood England Hockey Performance Centre (Boys and Girls) 2017 – 2022 Goalkeeper Coach and PCCC U17 Girls coach 2022 (Winners)
Hampstead & Westminster HC England Hockey Talent Academy Goalkeeper coach 2022-23
5th Class Girls
While we do not use goalkeepers in 5th Class matches or blitzes. 5th Class girls are offered the opportunity to give goalkeeping a go. This is a fun training session with a goalkeeper coach. So if you are interested let your coach know. At this time it is not possible to run 5th class/U10 boys goalkeeper sessions but we hope to get them up and running in the future.
6th Class Boys and Girls Goalkeepers
In 6th Class leagues it is a Leinster requirement that we have goalkeepers playing in all of our matches. With this in mind we have a plan to introduce players to goalkeeping in the hope that some may decide to become goalkeepers.
As it is the first time that we will introduce goalkeeping, during the warm up, the goalkeeper coach asks the group if there is anybody interested in trying out goalkeeping. We will take a list of all those interested. We will take 3 players at a time to try it out each week. We will run only try it out sessions until the end of November.
Once everybody who wants to 'try it out', has done so. We go back to the group and see if there are any players who want to do goalkeeping on a weekly basis there is also a part time option where the player can do a goalkeeping session every second week. In short, players are offered try-it-out sessions as a goalkeeper, after a couple of months they are offered the opportunity to do it weekly. Goalkeeping is a skill and one of the most important positions on the pitch. Avoca Goalkeepers have gone on to represent Leinster and Ireland.
Primary goalkeeper sessions are run during player sessions
5th Class Girls 9:00am- 10.30am
6th Class Girls 10.30am-12pm
6th Class Girls 12pm-1.30pm
Under 12 Boys 1.30pm-3.00pm